PURPOSE . INTENTION . FUNCTION

PURPOSE . INTENTION . FUNCTION

PURPOSE . INTENTION . FUNCTION

PURPOSE . INTENTION . FUNCTION

PURPOSE . INTENTION . FUNCTION

PURPOSE . INTENTION . FUNCTION
PURPOSE . INTENTION . FUNCTION
PURPOSE . INTENTION . FUNCTION
PURPOSE . INTENTION . FUNCTION
PURPOSE . INTENTION . FUNCTION
PURPOSE . INTENTION . FUNCTION
PURPOSE . INTENTION . FUNCTION
DESIGNED WITH PURPOSE, INTENTION & FUNCTION.
Reformer Loops are your personal set of loops for use in your Pilates Class. 
Resistance Loop Bands & Sliders are your accessory for use anywhere, from class to home.
Reformer Loops come in two styles. The exact same double Loop, made from 100% GRS-certified recycled PET bottles. The Premium Loop also comes with a neoprene lining for extra comfort and durability.
The best part is that they are easy to attach to any reformer via clip or soft-rope attachment. The reduced noise provided by the paracord connection is one of our favorite features.
The Resistance Loop Bands are three resistance levels, of non-slip amazingness!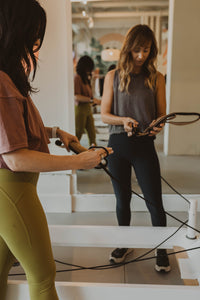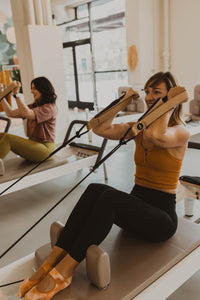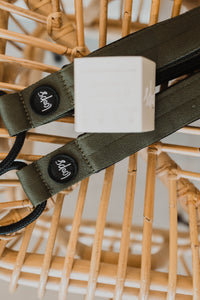 Reformer Loops
Bring them with you to your Reformer or studio class for use on the Cadillac. Two different loop lengths give you options - whether you're using them around your hands or feet. Safe in the knowledge that they are your own personal Loops.
Shop Now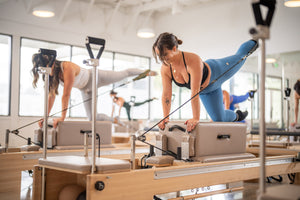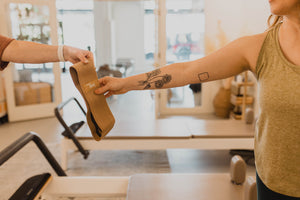 Resistance Loops
Three times the fun with varying resistance levels. Use them to facilitate, support or challenge you anywhere, anytime.
The soft fabric bands have a non-slip lining so the bands stay put while you move, stretch and squat your way to your goals! 

Shop Now
"I love having my own set of loops to take with me to class every day"
Montse
Flagship Retail Studio
Come check out the range of Reformer Loops products in person. 
Pilates Republic
960 S Coast Hwy 101 #112, Encinitas, CA